Welcome to Walker Valley Veterinary Hospital
Your Veterinarian in Walker Valley NY
Call us at (845) 744-8605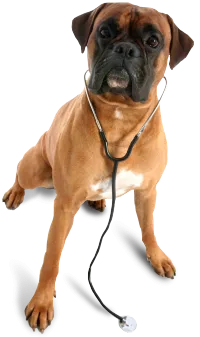 Pet Emergency? Call us right away at (845) 744-8605 !
Dr. Christine Barnhorst recently took over ownership of Walker Valley Veterinary Hospital, who had owned the practice since 2002. Dr. Lucas has chosen to stay on as part of the team and is critical for the growth of the practice. Together, we have chosen to remain a privately owned hospital in the sea of ever expanding corporate owned hospitals. By doing this we have the freedom to practice medicine with the best interest of you and your pet in mind.
Dr Barnhorst started her career over 25 years ago as a veterinary Captain in the US Army where she trained enlisted soldiers, performed public health duties and cared for military working dogs and pets of military families. She then began practicing as a small animal veterinarian throughout NY and NJ. We are expanding our services to include dentistry and dental radiography, nutrition consultations, soft tissue surgery, abdominal ultrasound, hospitalization of sick animals, and in-hospital immediate laboratory results. We are staying on top of the latest diagnostics and treatments in order to provide you with the best care for your pets.
We have changed our name to Walker Valley Veterinary Hospital Nutrition and Wellness Center as we put more of an emphasis on wellness and nutrition. We are seeing way too much cancer, arthritis, allergies, and other inflammatory diseases in both our pets and ourselves. We hope that by becoming more aware of the causes of these diseases you may be able to make some changes that will improve the quality of the health of your pets. We value each and every client and strive to make every interaction as enjoyable as possible.
We invite you to help yourself to an organic beverage and snack while you relax in our waiting room with a wide screen television on our comfortable leather couch and chairs. We hope that you will become part of our family and stop in to visit whenever you are in town.
---
If you live in Walker Valley or the surrounding area and need a trusted veterinarian to care for your pets – look no further. Dr. Christine Barnhorst is a licensed NY veterinarian, treating dogs and cats. Your pets' health and well being are very important to us, and we take every possible measure to give your animals the care they deserve.
Walker Valley Veterinary Hospital is a full-service animal hospital and welcomes both emergency treatment cases as well as pet patients in need of routine medical, surgical, and dental care. Dr. Christine Barnhorst has years of experience treating serious conditions and offering regular pet wellness care. Beyond first-rate pet care, we make our clinic comfortable, kid-friendly, and calm, so your pet can relax in the waiting room and look forward to meeting our Walker Valley veterinarian.
We are happy to offer a number of resources that enable you to learn about how to take better care of your pets. Please feel free to browse our site, particularly the informational articles. The best veterinary care for animals is ongoing nutrition and problem prevention, so becoming knowledgeable about preventative pet care is essential to the ongoing success of your animal's health. If you have any questions, call (845) 744-8605 or email us and we'll promptly get back to you. Our Walker Valley veterinary office is very easy to get to -- just check out the map below! We also welcome you to subscribe to our newsletter, which is created especially for Walker Valley pet owners.
At Walker Valley Veterinary Hospital, we treat your pets like the valued family members they are.
Dr. Christine Barnhorst
Walker Valley Veterinarian | Walker Valley Veterinary Hospital | (845) 744-8605
3684 Route 52
Walker Valley, NY 12588